Done mostly Christmassy things!
~ Finished work with the traditional Christmas Entertainment ending. I have seen way too many teenage boys in drag...
~ Put up the Christmas tree! We had an epic quest to find suitable lights (got some, didn't like them, took them back, found others, liked them, decided we needed more of those...). But in the end it is looking prettier than ever:
- Received cards from
__kali__
(plus a pretty giraffe charm thing! so cute!),
dune_drd
,
morbid_sparks
,
faith_less_one
,
etmuse
,
kharma2815
(plus something knitted and squidgy! yay!),
flipbfc
(plus Merlin goodies - she knows me too well!) and
fly_to_dawn
(the cutest hand made card with the sweetest message inside. She's so adorbs!).
THANK YOU EVERYONE! You're all so lovely. *snuggles*
~ Finished off the Christmas cross stitch I was doing for mum. She really likes traditional Christmas imagery and so she loves this:
~ I spent my first weekend off in Birmingham with
flipbfc
, Irish Kate,
steviesun
and
__kali__
so we could watch their panto and sample the delights of Christmas Market. Firstly, the panto was very funny. Brian Conley was playing Buttons and watching him using some of the old skits from his TV series was like being a kid again. There was also an adorable pony and a very clever horse. We may go back next year because they're doing Robinson Crusoe and the Pirates and frankly we're intrigued as to how that's a panto. The Christmas Market was too full of goodies - include tiny cinnamon pancakes of Christmassy goodness!
~ Then I spent today making Christmas cupcakes, I did try one after - as a good baker has to - and they are like very light Christmas cake. Yummy!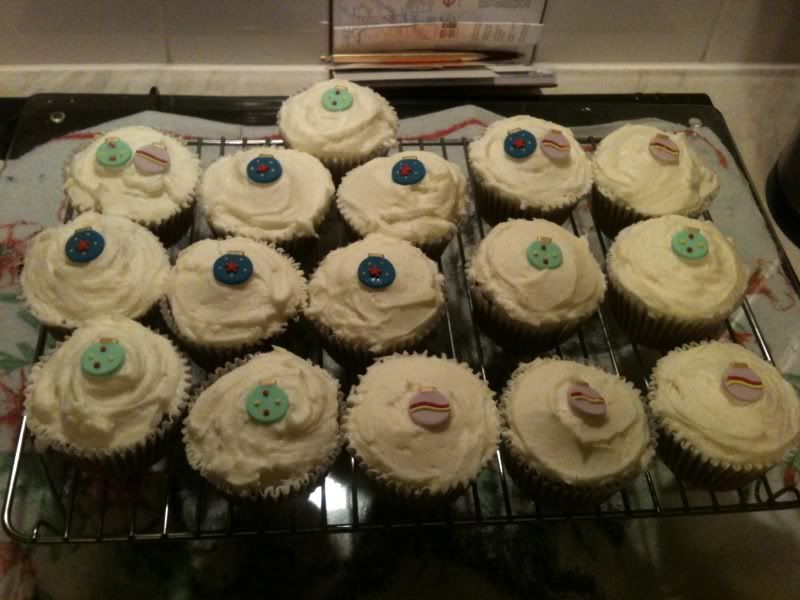 ~ One thing I haven't done: wrap presents....oops...I should probably do that tonight!
Current Mood:
busy