So I spent a long weekend in a very busy manner.
Friday was a day off in lieu for all the extra twilight training we're doing this year. Fortunately it also happened to be the day that The Darkness were playing in London. Yes, the catsuit clad crazy rockers are back.
Me and the bro toddled off to London. We wandered around Camden and he suddenly realised where I get all my clothes on, appreciated the music shops and was actually somewhat useful in helping me pick out a new top. He wouldn't, alas, try bubble tea but had enough coffee to make him hyper.
We then went across to the Victoria area so he could go to a pilot shop (where you buy pilot stuff, not pilots). It was suited in this very nice but very out of the way street. Not an obvious place for a business but it's hardly as if the pilot shop relies upon people walking passed going 'ah! I was looking for a pilot shop!'.
Then we went to TGIs so he could pig out on ribs (see what I did there?) and we could enjoy their many foods and cocktail menu. He liked a sunset boulevard. And then we went to Dirty Martini and he loved the lychee martini cocktails. Feelings less than manly, I took him to a proper pub and he had a pint to cheer himself up. On the way back to the station I found a mulled cider seller. Not only is mulled cider very nice and sold in handy coffee cups with lids, but the lady behind the counter was very cute and very complimentary about me. I think she'd been drinking her own product but I'm not complaining :D
The short journey to Hammersmith complete, we went, drunk Guinness and rocked out. Damn I've missed The Darkness. They're so much fun and have such sing along songs. And good fans - we made friends with some guy called John who was sitting next to us and on the tube back I helped some drunk guys re-enact his very innocent attempt to mime along to 'Get Your Hands Off My Woman' which nearly led to him being punched at the gig.
The two best bits of the show 1) they played the Christmas song (which is the only proper Christmas song released in the last decade) and Friday Night (which is my favourite). 2) Brian May came out to play with them.
BRIAN F*CKING MAY!!!!!!!!
T'was so excited. They played Bareback, Tie Your Mother Down and I Believe In A Thing Called Love. Me and the bro screamed ourselves hoarse.
Incidentally, after the Foo Fighters a couple of years ago, this is the second surprise Brian May that me and the bro have had. We think he's stalking us.
And...I think I'll write about Saturday and Sunday tomorrow or this will be a ridiculously long post.No pics of the Darkness because I only have my phone on me. But have a pic of the cool new dress/top I got: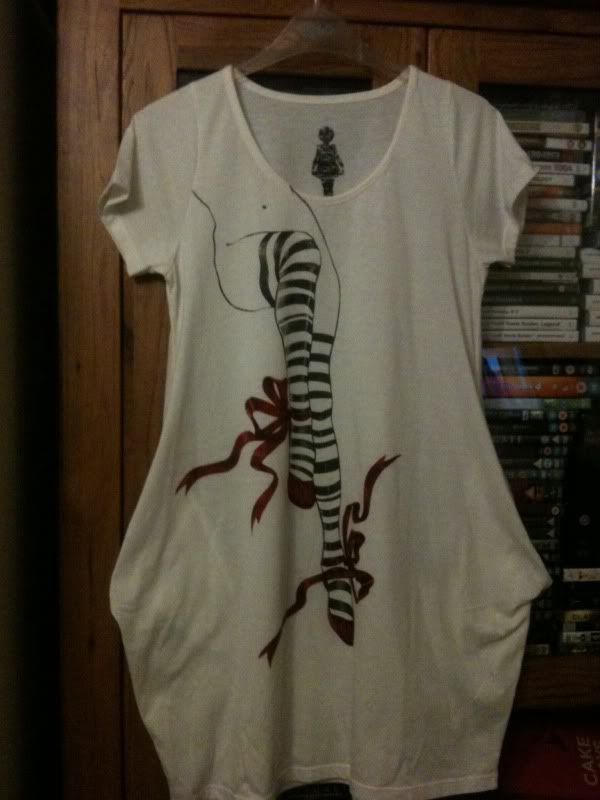 Current Mood:
busy