~ 4 days at work done, 116 to go :p So far things are so good. Stuff seems to be coming together and the classes I've got are fine. I am NOT looking forward to the last one I have tomorrow though. Fingers crossed they aren't as bad as I feared. My apprentice from last year is back and me and my colleague are going to whack him one if he complains one more time that he's too tired and he hasn't got time to do things. TOUGH! And welcome to teaching. The irony being that he doesn't really have that much to do - he has to sort out lessons for his Year 12 class. Beyond that the work is all pre-supplied.

~ The seem to be a LOT of good guests at London Collectormania (or whatever the hell it's calling itself). This may certainly be worth a visit.

- Little George is doing fine. Vet was pleased when she saw him in his post-op visit. He went back in the other day because the wound area is swollen but they said it is just fluid build up and will gradually drain. Stitches are due out on Tuesday. Here's how he was looking the other day: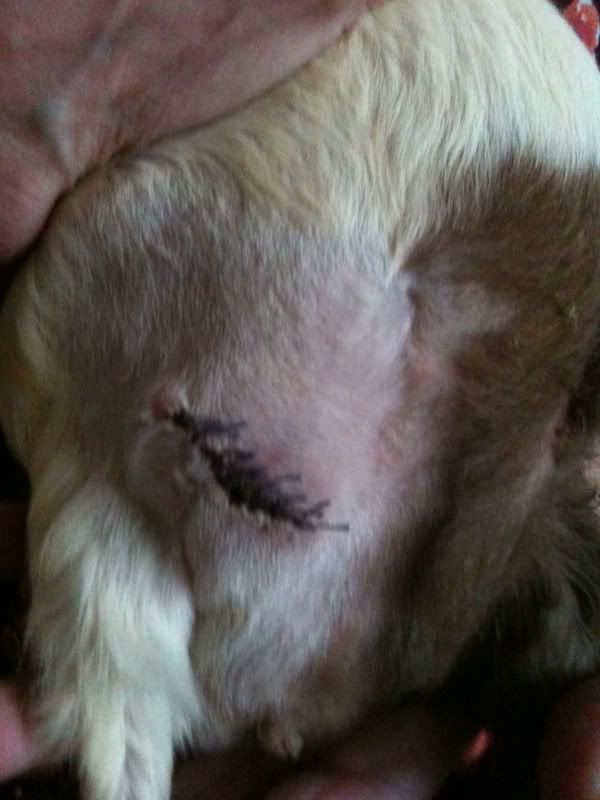 In mildly more WTF news, the histology came back - it was a harmless fatty lamp. ARGH!!!!! On one hand, yay that means there's nothing nasty there. On the other after all that damn stress... Still, the vet let me read the histology report and they said it was quite dense for a fatty lump and so they could understand the cautious approach.

~ Ainsley Harriott cup soups are LOVELY. So full of noms and not full of calories. Today was French Onion. So tasty. Wild mushroom tomorrow I think (okay so that's not very exciting but I have to have something to keep me going at work!)

~ Had an idea I love for a Merlin AU. May already be planning to sign up for next year's paperlegends big bang. Oh dear.