Yeah I may have been a LITTLE slack at updating this. I was busy, away, LJ was down or it was becoming too big a job for me to be arsed. BUT since I'm sitting here doing sod all, let's have a summary of what I did in the last month in no particular order...
~ Went to LFCC. Saw Karen Gillan who was absolutely adorable and a serious human giraffe. I have never seen such long and slender limbs on a human who walks with such grace. Her signing was quick but she laughed when I asked how fab it was for her to be Alex Kingston's mother and agreed heartily. Her talk was made cringe worthy by fangirls asking for hugs. DO NOT DO THAT PEOPLE!
~ Also met Natalia Tena (from Harry Potter and Game of Thrones) who was LOVELY. She had an amazing hat on:
Apparently she nicked it from an Italian policeman (and added the flowers after obviously). She told me I HAD to read the second GoT book :D
~ I managed to curb my shopping mostly whilst there brought a Gryffindor badge, a tee shirt and a Harry Potter charm bracelet: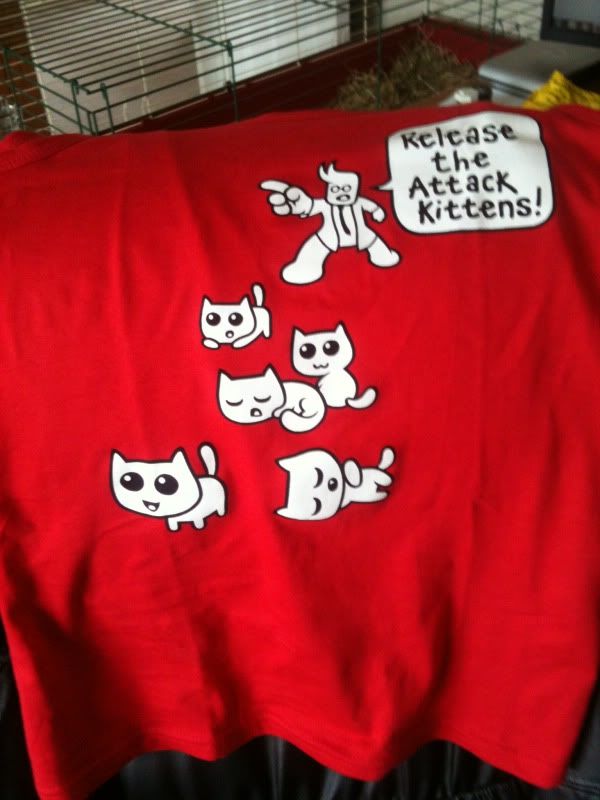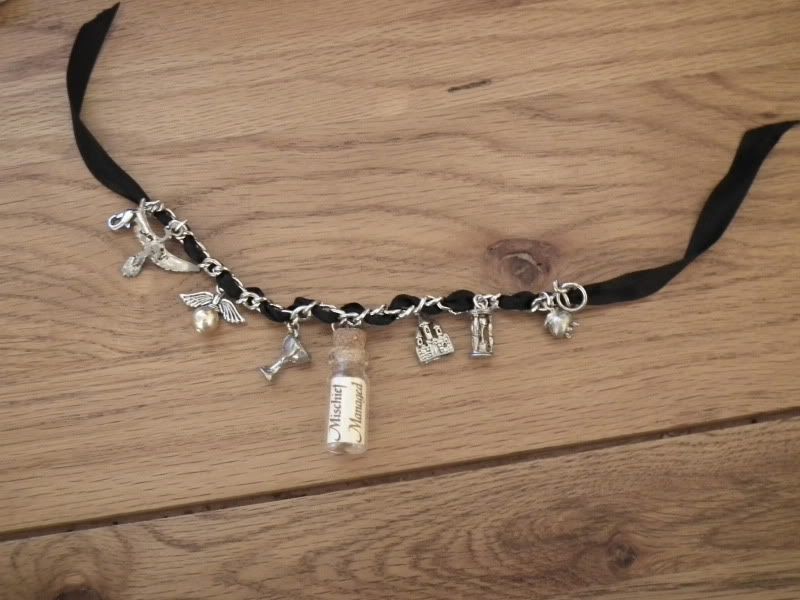 ~ Whilst we were there,
gnimaerd
went all arty and drew something proper. I drew Harry Potter sheep.
~ I did some baking from the Hummingbird Bakery cookbook. Made chocolate fondant and walnut and apple cupcakes. The latter were my faves: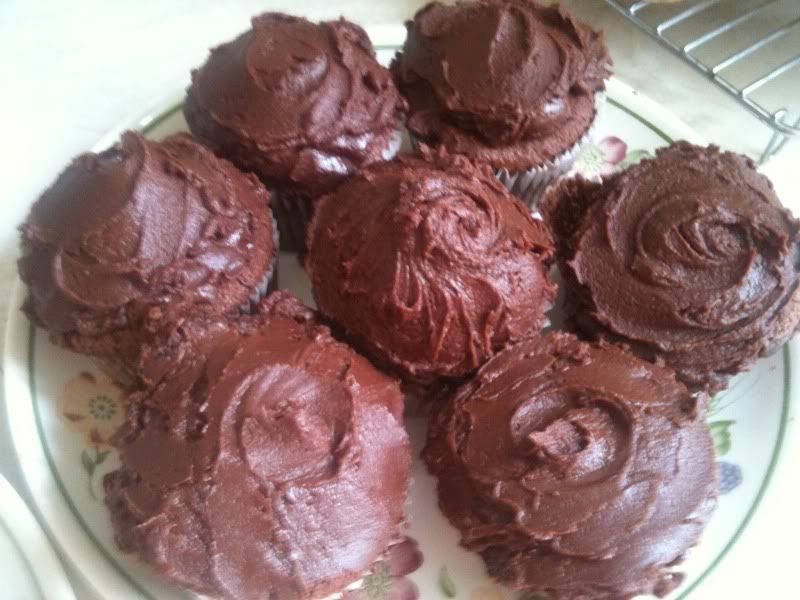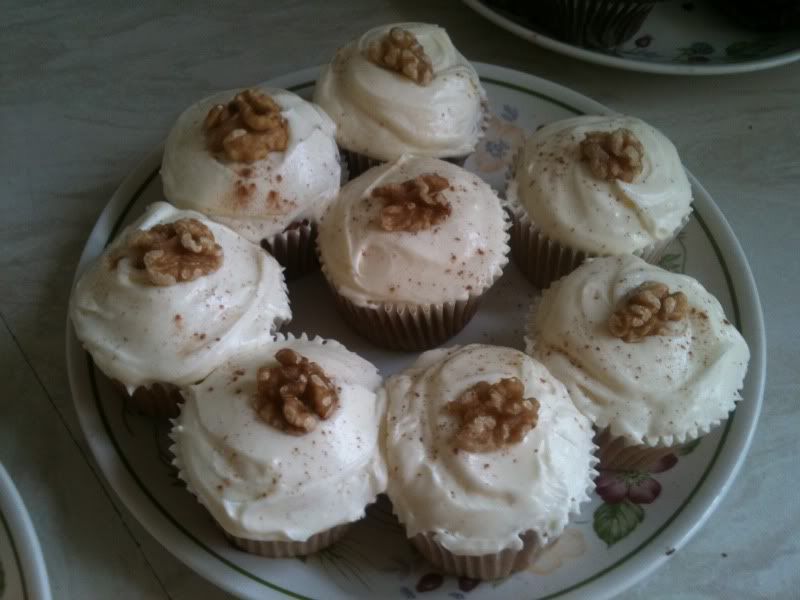 ~
gnimaerd
had a birthday which I am STILL finishing off her dolls for (yeah, I fail). Went out with her,
la_esmerelda
and
kepp0xy
. Had cake, bubble tea and Mexican food. Also watched some guy juggle badly, discussed how Ken Livingstone personally
ran around Trafalgar Square getting rid of the pigeons and came up with a show about a woman who wants to be a street artist and works her way up from pretending to be a pavement to being a column in Covent Garden.
~ I finished my
paperlegends
fic. Just cleaning up the last part still but it's done and awaiting feedback from beta and art.
~ Had a home craft swap day with
gnimaerd
. She taught me how to bake cheesy bread, I taught her how to crochet. Also gained her undying love by bringing her bubble tea and donuts. I know her too well :P We came up with a new measurement system that makes just as much sense to us as the American cups thing. it goes none, a little, some, a lot, all. It's surprisingly accurate. In the end, I made bread and an Ood:
~ I dyed my hair slightly redder and got another henna tattoo: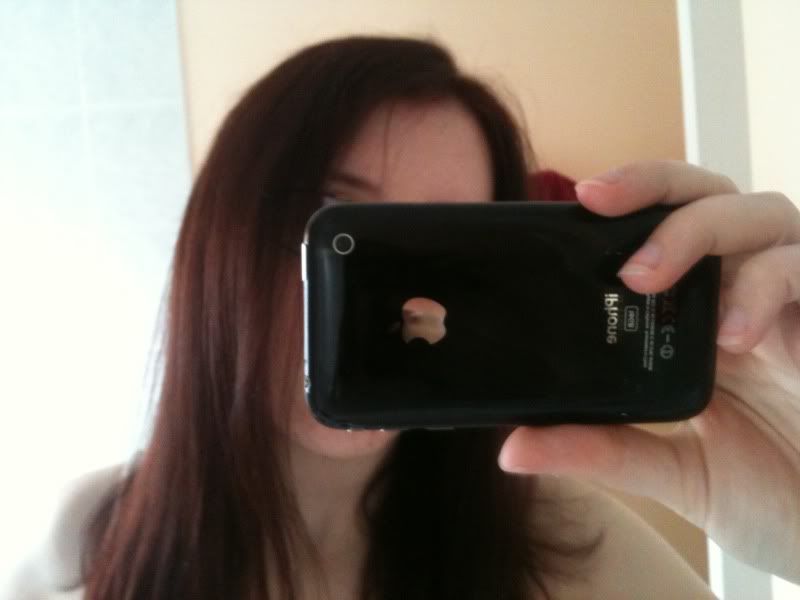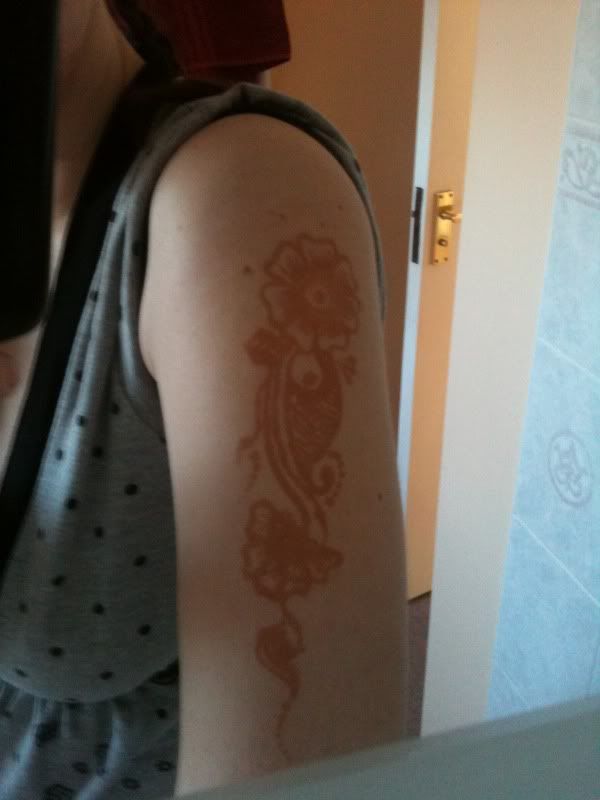 ~ I went to a bash to celebrate the opening of the new hanger at Headcorn with the family and Heidi (bros gf). Much fun was had by all, the hanger doors were opened to the 2001 theme which made me lol greatly, there was a lot of dancing (including my dad!) and I tried Guinness for the first time and liked it.
sweetveritas
was suitably proud.
~ I saw Les Mis for
morbid_sparks
bday with her, her mum,
etmuse
and
pinkfairy727
. Excellent show, Alfie Boe was very impressive although I thought Matt Lucas was excellent too and all but stole the show for me. Also in a fit of epic randomness, who should be sitting in the row in front of us than River Song aka Alex Kingston! The day after I saw Legally Blonde with
flipbfc
. Really enjoyed it! A lot of fun and some catchy songs ('is he gay or European?'). Although they had some problems with a reluctant doggy actor :D
~ Went out with
teaspice
and her friend. Saw her little flat which she's so proud of, bless, and had the best margarita ever. Bar lady didn't have the ingredients in front of her so said she just made it up. It was about 4000% proof. A whole night out in one drink.
~ Went dress shopping with
flipbfc
. I don't think she found it too painful. I also brought this great hoodie: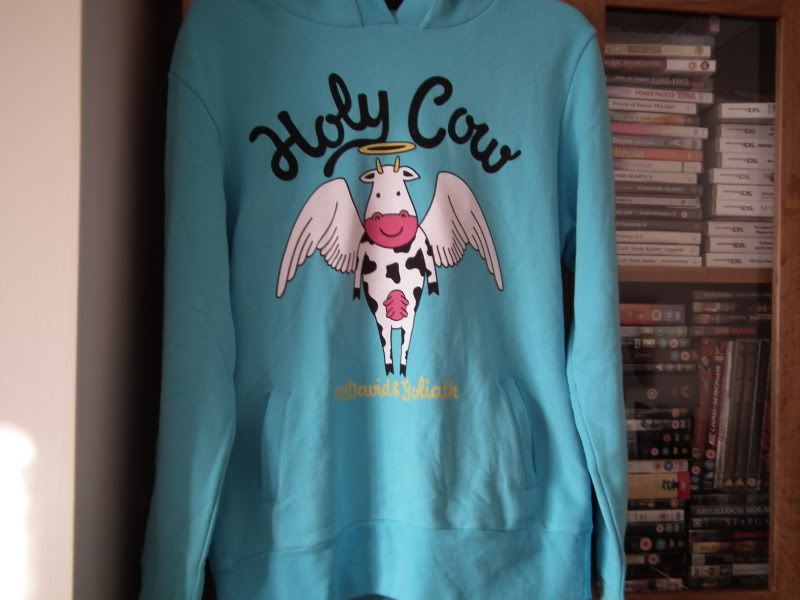 ~ Brought an awesome new camera ready for Disney trip. Also brought erasable ball point pens which are just excellent and I'm far too impressed with.
~ Drunk A LOT of bubble tea.
And I think that's everything.
*collapses*