Disneyland Paris (because the two American ones have to be slightly happier, right? What with all that 'have a nice day' stuff you don't get in France...)

Anyway, here's some random trip thoughts and photos...

- Tip for anyone: If you can, go by Eurostar. It's so easy and hassle free. (Okay even easier for me since the station is five minutes from my house but...). We were using the Disney Express service which meant our park tickets etc were waiting for us at Ashford station. The journey was quick and comfortable, right into Disney itself. When we got there we just handed our luggage over and it'd be delivered to our room after 4pm so we could go off and enjoy the park.

- The Bro's first ever Disney ride was Pirates of the Caribbean. I wanted to start him on something gentle. He was extremely impressed with the themeing. He was not so impressed by me singing the song the whole time we in there, especially since I didn't know all the words and took to making them up...

- The Rainforest Cafe is rather fabulous inside. We had a late lunch there on the first day and it was nice and quiet. You know, except for the bongo playing apes, the tropical rain storms and the noisy elephants...

- The main Disneyland Hotel (the big pink one over the park) is amazingly beautiful. The staff are also terrific and so very helpful and friendly. Our room was, again, amazing. We had a corner one so it included double doors and a small balcony. We felt underdressed for being in there. The only thing 'wrong' with it was the lack of English channels on the TV - BBC World or the 24hr Hannah Montana Channel the Disney Channel. Breakfast was lovely and I managed to keep my cool about seeing the Disney characters every morning up until the last day and Scrooge McDuck was there. Then I think I had a minor squee.



Our lovely hotel room


- Queues weren't too bad. The longest was an hour for Crush's Coaster which was expected as it always has massive queues. The rest was half and hour (if not shorter with clever use of fast passes - we went on Big Thunder Mountain about 7 times and only queued up more than 10 minutes once.)

- Despite what you might think, the rides certainly aren't all for kids...

- Space Mountain is a launch coaster in the dark with several inversions and a bit at the end with lights spinning in a tunnel that just screw you up. It's a complete mind f*ck. The only problem is it is as rough as hell and you can't ride it too much or you would be bruised to hell.

-Rock n Rollercoaster is similar to Space Mountain but MUCH smoother. Also it has the added attraction of being based on a rock gig by Aerosmith. There's nothing quite like being launched to 100kph in 2.something seconds whilt 'Love In An Elevator' is being blasted in your ears.
- Crush's Coaster is a spinner like Spinball Whizzer at Alton Towers but it feels a lot faster. Again, it's in the dark and there's some really beautiful themeing (a 'herd' of the evil angler fish, Bruce the shark trying to eat you, Nemo and Squirt saying hi, Jellies (totally)...) before you get on the main coaster - riding the EAC. I LOVE the turtles in Finding Nemo so I love this ride. Shame it always has such a massive queue or I'd have gone on it more than twice.
- Tower of Terror. Pretty much had to drag the Bro on this one. It's set up like a Twighlight Zone episode. Supposedly this 50's hotel got struck by lightening, killing all the guests, including sending the lifts plummeting to the ground. The themeing on the whole thing is absolutely incredible, right up there with PotC. The cast members who work on it are also great, they REALLY get into their roles and are utterly creepy! It is a drop ride, which, whilst I thought was fun, the Bro was still a bit iffy about. He said 'it wasn't as bad as he thought' but I still only got him on it once.
- Indiana Jones. Basically the baby coaster. It's far smaller than their others although it does invert. Apparently it used to go backwards but people didn't like that. Pity because it would have added something to it imo.
- Big Thunder Mountain. Loved it! The good old runaway mine train but done to the max. No inversions but a lot of sweeping corners and stomach leaping drops. Proved that the Bro is totally unobservant. He didn't notice the really obvious bit where the train makes it look like you're about to knock yourself out on a wooden beam before diving underneath it until the 7th go...
- Buzz Lightyear - a shooter where you get inducted into space command and have to defeat the evil Emperor Zurg. Victory was mine! (2 wins to 1 in the end - the last was very close, about 1000 pts in it)
-Star Tours is a little hidden gem. It's basically a Star Wars simulator where you're meant to be on a pleasure flight to Endor but end up in a space battle over the Death Star instead. The way it makes you feel like you're going into light speed even thought you're barely moving is very clever indeed.


- We took advantage of the extra magic hours we got as hotel guests to get on some of the fun looking kiddie rides such as Peter Pan's flight and Dumbo. Also got some pictures of the park with fewer people around.

- The shows really are brilliant and I'm glad we took time to see some. We watched the Motor Stunt Show (those guys are crazy!), Cine Magique (which I won't spoil for anyone but omg, is it clever how they do it!) and went to Buffalo Bill's Wild West Show in the evening. The Bro was incredibly impressed by that - think he wants to be a cowboy now.

- I said to myself I wasn't going to watch the day time parade (would take the opportunity to get on some more rides whilst people were distracted) but I got sucked in...

- The main night time parade and fireworks were amazing. Even better we managed to get ourselves standing on a kerb so I could actually see things!


- It really is the biggest stress relief in the world. I think it may be the happy music but you just get used to it, hum and dance along all the time. Even the sometimes cynical bro was feeling it.


- Coming home, we were already planning a trip back for next year.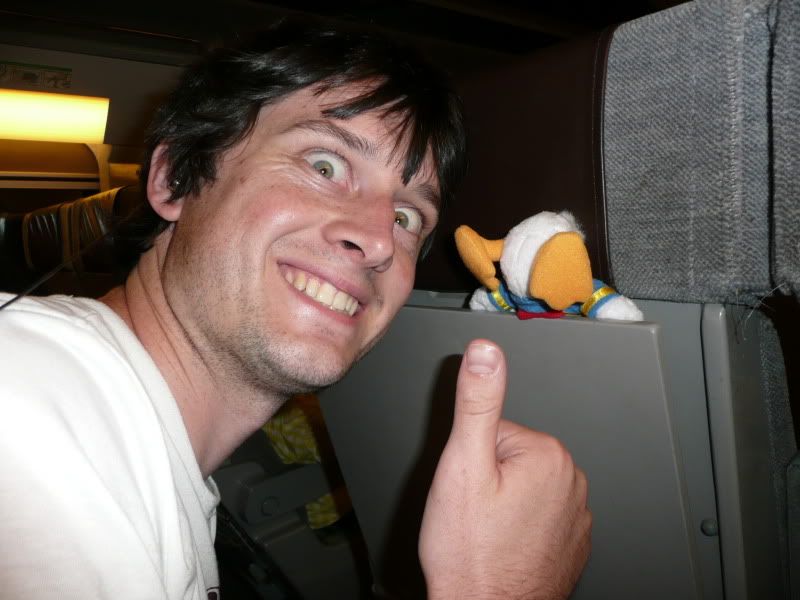 - Okay, let's put this into context. The Bro, for some reason, gave Donald quite a lot of abuse. It started with him saying the fireworks were running late because Mickey was strapping said duck's arse to one and they were going to shoot him over Paris. He did a rather amusing impression of what this would sound like, adding that the final visual would be his little sailor hat floating down. After that, things just continued until we were on the train home and the Donald I'd brought ended the trip in suitable fashion...